Current Waiting Time: 00:02
RIVER OAKS EMERGENCY ROOM
We are a No Wait 24-hour emergency room located on South Shepherd Drive between Fairview Street and Indiana Street next door to Dunkin' Donuts.
We accept all major insurances.
ADDRESS
2320 South Shepherd Dr. Houston TX 77019
WE ACCEPT WALK-INS 24/7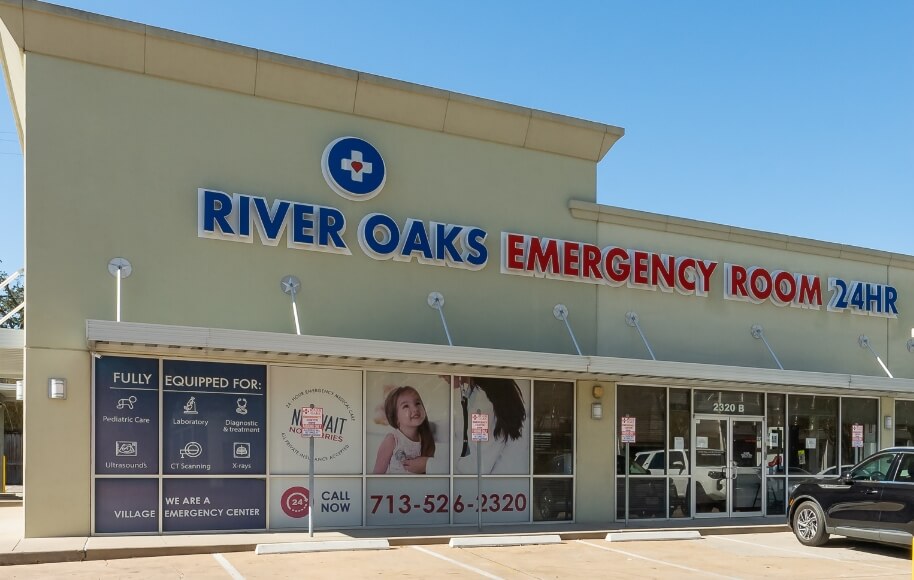 Located in Houston, Texas, our River Oaks Emergency Room is close to the community and delivers compassionate care to local residents. We understand that health emergencies are urgent, which is why we see patients quicker than a large hospital's emergency room would. Short wait times means faster medical care for you when you need it most. And because we are smaller, your experience at our Houston ER is more personal and focused. Our highly trained staff and state-of-the-art medical equipment allow us to handle emergency situations with urgency, compassion, and professionalism.
At River Oaks Emergency Room, we believe that compassion is key. When offering vital emergency care services, everyone deserves to be treated with a personalized approach during their time of need. Our board-certified physicians and registered nurses are dedicated to providing the very best in emergency care while also maintaining a strong sense of compassion not often found in traditional hospitals.
In addition to having a personalized approach, we pride ourselves on having fair and transparent billing practices. Everyone deserves to be treated like a person, not a bill, which is why we make concerted efforts to ensure you don't receive unforeseen charges while recovering from an emergency. This is just one of the many ways we strive to make a difference in the lives of our patients.
At River Oaks Emergency Room, we accept all major insurance plans. We will work with you to ensure that you receive health care no matter what. Common reasons to take a trip to the emergency room include the presence of abdominal pain, broken bones, and life-threatening symptoms such as chest pain and dizziness. We encourage everyone to not ignore the signs of a medical emergency, as we are open 24/7 and are always prepared to care for any patient that comes through our doors.
FIND AN EMERGENCY ROOM NEAR YOU
RIVER OAKS*

2320 South Shepherd Dr.

Houston, TX 77019

What Our Patients are Saying
"Actual fast, friendly, affordable and professional service! The staff is great!" …
"Visited this wonderful, friendly and professional neighborhood urgent care facility for urgent care there recently and was impressed by their attention to detail, professionalism and kind care. Dr. Luna-Gonzales was calming and handle…
"Being a self pay patient, I called first to get quoted on prices. I was informed that they do not do that over the phone, but to come in and they could quote me. From the front desk, to the interaction with the nurse, then ending with the doctor, I had a wo…
"Very professional. Put me at ease. Fast."…
"I'm a hypochondriac, so feeling certain personal ways at 2:30 am one night, I (soberly) drove up the nearby River Oaks Emergency and it was extremely quick, professional and pleasant. I thank you all for your help and support."…
"Was having palpitations in my chest. The physician and nursing staff tended to me immediately. Checked my vital signs, EKG and labs without delay and I was reassured that everything was fine. I was in and out in 30 min. Excellent service and facility.