Current Waiting Time: 00:05
CLEAR CREEK EMERGENCY ROOM
We are a No Wait 24-hour emergency room located on East League City Parkway between Lawrence Road and Mar Bella Parkway in Front of Clear Creek ISD Education Village.
We accept all major insurances, including Medicare and Medicare Advantage Plans.
ADDRESS
3725 E. League City Pkwy. # 150 League City TX 77573
WE ACCEPT WALK-INS 24/7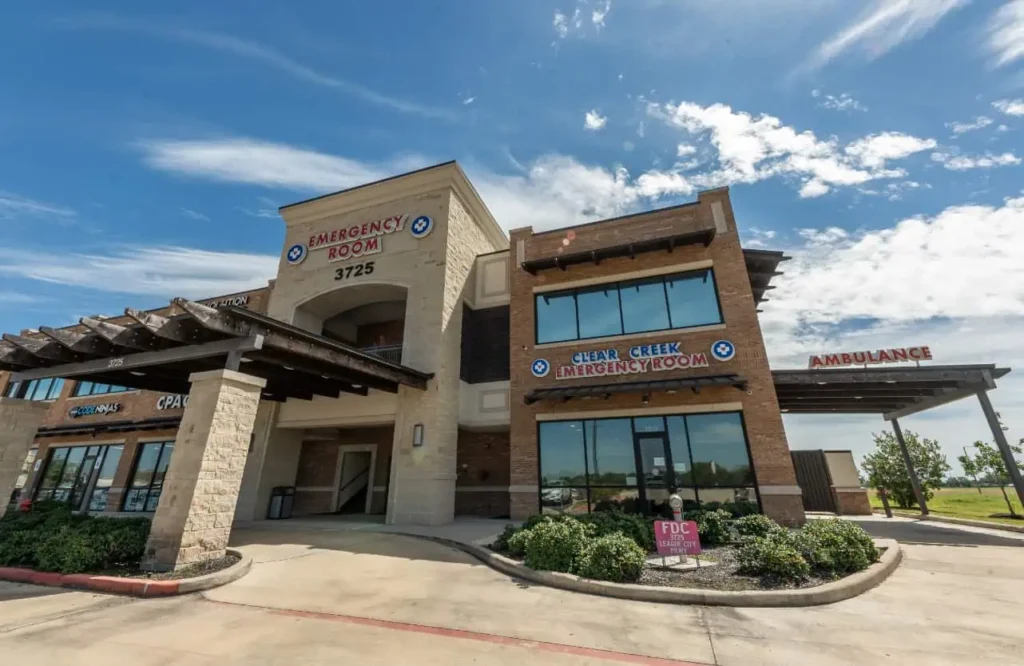 Serving League City, Texas, and other neighborhoods nearby in the Clear Lake area, Clear Creek ER is open 24 hours a day, every day. Our board-certified physicians and ER staff are available around the clock for immediate, urgent, and emergency healthcare in a clean and comfortable setting. We know every second matters to your health, and our league city emergency room is set up to be fast. Most patients experience zero wait time, and we promise that no patient will ever wait more than a few minutes to see a qualified physician at Clear Creek ER.
We know that comfort is key to making our patients feel better. For this reason, our conveniently located emergency room offers free parking, free WiFi, children's activities, and coffee and snacks. We treat our ER patients like guests because they are our neighbors. We go to great lengths to provide a tranquil, relaxing environment that will make our patients feel better as soon as they walk through our doors.
With state-of-the-art medical equipment, including CT scan, ultrasound, and X-ray, Clear Creek ER has everything you need during an emergency. Our board-certified doctors and registered nurses each have years of experience, giving you the peace of mind and confidence needed to choose Clear Creek ER over traditional emergency rooms.
Clear Creek ER accepts Medicare & Medicare Advantage Plans, and all major insurance plans, and is proud to offer the same pledge to every patient who visits us for treatment: this is a worry-free zone. You will receive the very best in emergency medical care. We want you focused on recovering from your injury or illness—not insurance or payments. We always treat every patient like a person, not a bill.
In addition to offering personalized emergency care, Clear Creek ER also provides free health screenings every day of the week. Whether you need to check your blood pressure, glucose levels, or simply want a physical, our team of professionals will administer the test and provide you with a free consultation based on the results. This is a part of our mission to give back to the community and promote healthy lifestyles through preventative care. Refer to the screening schedule below or call 281 549 7032 for more details.
FIND AN EMERGENCY ROOM NEAR YOU
CLEAR CREEK*

3725 E. League City Pkwy.

League City, TX 77573

What Our Patients are Saying
"Actual fast, friendly, affordable and professional service! The staff is great!" …
"Visited this wonderful, friendly and professional neighborhood urgent care facility for urgent care there recently and was impressed by their attention to detail, professionalism and kind care. Dr. Luna-Gonzales was calming and handle…
"Being a self pay patient, I called first to get quoted on prices. I was informed that they do not do that over the phone, but to come in and they could quote me. From the front desk, to the interaction with the nurse, then ending with the doctor, I had a wo…
"Very professional. Put me at ease. Fast."…
"I'm a hypochondriac, so feeling certain personal ways at 2:30 am one night, I (soberly) drove up the nearby River Oaks Emergency and it was extremely quick, professional and pleasant. I thank you all for your help and support."…
"Was having palpitations in my chest. The physician and nursing staff tended to me immediately. Checked my vital signs, EKG and labs without delay and I was reassured that everything was fine. I was in and out in 30 min. Excellent service and facility.