Current Waiting Time: 00:03
KATY EMERGENCY ROOM
We are a No Wait 24-hour emergency room located between Katy-Fort Bend Road and Grand Parkway (99) in front of Main Event Entertainment Center.
We accept all major insurances, including Medicare and Medicare Advantage Plans.
ADDRESS
24433 Katy Fwy. # 700 Katy TX 77494
WE ACCEPT WALK-INS 24/7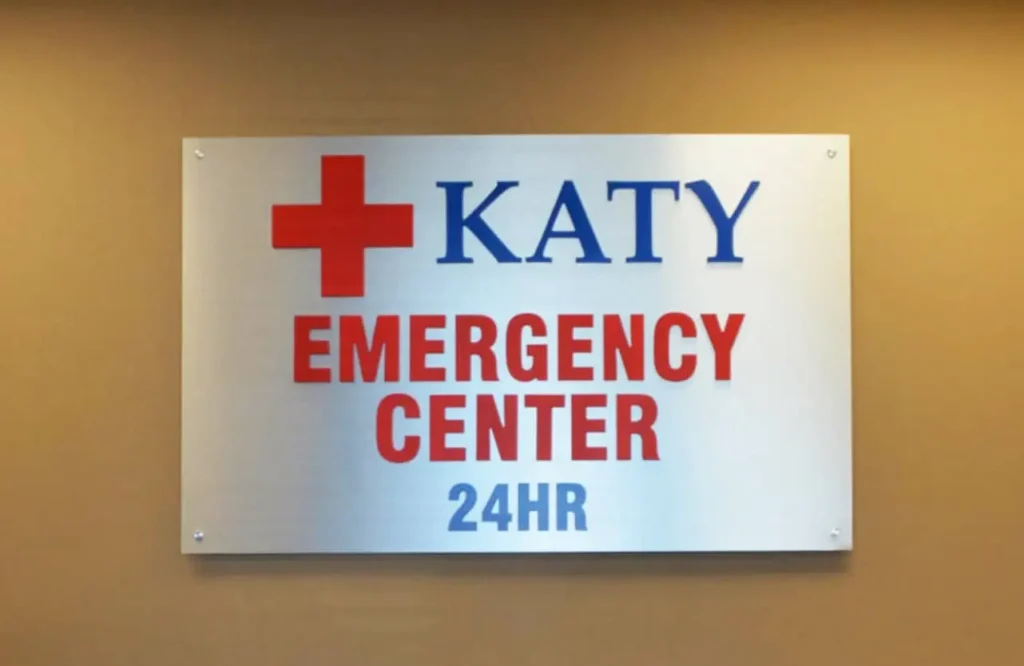 Serving Katy, Texas, and other neighborhoods like Cinco Ranch and Fulshear in the Greater Houston area, Katy Emergency Room is open 24 hours a day, every day. Our board-certified physicians and Katy Emergency Room staff are available at all times for immediate, urgent, and emergency medical care in a clean and comfortable setting. We know every second matters to your health, and our emergency room is set up to be fast. Most patients experience no wait time, and we promise that you'll never wait more than a few minutes to see a qualified physician at Katy Emergency Center.
We know that comfort plays a big role in making our patients feel better. That's why our conveniently located Emergency Room offers free parking, free WiFi, children's activities, and coffee and snacks. We treat our patients like guests because we are your neighbors. We go the extra mile to provide a calm, relaxing environment that will make you feel better as soon as you walk through our door.
At Katy Emergency Room, we recognize that freestanding emergency rooms have an obligation to treat any patient that walks through their doors. We accept all private health insurance plans and Medicare & Medicare Advantage Plans. You will never be turned away or refused emergency medical care. No matter what level of health insurance our patients come to us with, we will always offer prompt pay plans.
Among Village ER's many emergency room locations, Katy Emergency Room stands as a beacon of light to the community it serves. We understand that in an emergency, there is no waiting, which is why our board-certified emergency room is always welcoming to patients. Short wait times and 24-hour availability allows us to see every patient that steps into our facility as soon as possible. From the staff that helps you with paperwork to your Katy ER doctor assessing your health, we are committed to getting you the emergency medicine you need.
We believe that a patient's visit to the emergency room is urgent and done out of necessity. We urge our patients and community to never ignore the warning signs and symptoms of illness or injury. One of the most common causes of death is by heart attack, with symptoms that go overlooked by many sufferers. Sadly, heart disease claims approximately 1 million lives a year. By encouraging others to visit the ER when they suspect something is wrong, and educating the community about the options available to them, we can save lives.
Katy Emergency Room makes the same pledge to each and every patient who walks through our doors: This is a worry-free zone. You will receive only the best in emergency medical care. We want our patients focused on recovering from their injury or illness—not insurance or payments. We treat every patient like a person, not a bill.

What Our Patients are Saying
"Actual fast, friendly, affordable and professional service! The staff is great!" …
"Visited this wonderful, friendly and professional neighborhood urgent care facility for urgent care there recently and was impressed by their attention to detail, professionalism and kind care. Dr. Luna-Gonzales was calming and handle…
"Being a self pay patient, I called first to get quoted on prices. I was informed that they do not do that over the phone, but to come in and they could quote me. From the front desk, to the interaction with the nurse, then ending with the doctor, I had a wo…
"Very professional. Put me at ease. Fast."…
"I'm a hypochondriac, so feeling certain personal ways at 2:30 am one night, I (soberly) drove up the nearby River Oaks Emergency and it was extremely quick, professional and pleasant. I thank you all for your help and support."…
"Was having palpitations in my chest. The physician and nursing staff tended to me immediately. Checked my vital signs, EKG and labs without delay and I was reassured that everything was fine. I was in and out in 30 min. Excellent service and facility.